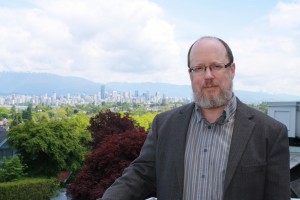 Writing is my fourth career, and it took me a long time to get there.  I was born in Montreal, but left when I was two.  My father was a chemical engineer and a start up specialist, so we moved often.  I grew up in Sarnia, Ontario; Dartmouth, Nova Scotia; Vancouver, British Columbia; Marin County, California; and even endured a short stint somewhere in New Jersey.
I went to high school in Sarnia and Vancouver, but I was a poor student (for the karmic results of that, see below).  I was an excellent reader.  Edgar Rice Burroughs, Andre Norton, Tolkien, Clarke, Asimov, and Ursula Le Guin were the citizens of my moveable city.  I made a few attempts at writing when I was young, but they were so derivative, such bad copies of what I read, that it was probably a good thing I stopped writing for a few decades.
Bad grades (and not actually graduating) meant bad jobs, so I worked as a security guard in Sarnia and Edmonton before ending up in Ft. McMurray, Alberta.  Even security guards made good money in that boom town.  I worked for a company that contracted security services to the Syncrude Canada Oil Sands site north of the town.  it was a revelation.  When I lived in Nova Scotia, I had begun to appreciate natural beauty: rock and waves, moss and fallen leaves – but the beauty of the woods around Ft. McMurray was as harsh and uncompromising as the weather.  Forty below in the winter (the same in both the celcius and fahrenheit scales) and forty above (occasionally) in the summer.  I found out that you could walk in the winter down to 20 below, and in the summer at any temperature as long as you sang to warn the bears.
For most of my stay there, I was an industrial 911 operator, coordinating the communications for the emergencies that occurred during construction and start up.  I worked and read in Ft. McMurray for almost ten years.  I also studied Shotokan Karate with the Ft. McMurray Karate Club – really nice, dangerous people.
I met my wife, Cecilia, there too.  She was from Hong Kong and had come to Canada to study.  Alberta farmed out foreign students to various community colleges, and she ended up in the ninth circle of hell for someone from the warm side of the world.  I made two major decisions: get married and go to university as an adult student.  Fortunately, Cecilia and UVic both agreed to my proposals.  I had some money saved and a work ethic – and studying couldn't be worse than freezing, right?
I enrolled in courses at the University of Victoria in Pacific Rim Studies, with a minor in Chinese Studies.  People had tried to talk me into taking Business or something else practical, but I had been interested in Asia ever since I was sixteen and saw "Five Fingers of Death" at the Sarnia Odeon theatre.  So I took the advice of the Shaw Brothers over my other relatives and dove into a five year course that included a year in Shanghai, studying Chinese and practicing with a local Wushu class.  When I was there, I taught English classes to earn some spending money and found that I enjoyed working with the students.
University, my second career, was coming to a close, and I had to figure out what was next.  Our son, Thomas, was two years old and probably wanted stuff, like a place to live and clothes.  I decided to become a teacher.  UBC accepted me into their 12 month program to learn how to teach in two areas: Mandarin and Social Studies.  I did my practicum at a Vancouver school, David Thompson, and survived.  The Mandarin got my foot in the door in Richmond, a suburb south of Vancouver that had a large and growing Chinese immigrant population.  I taught in Richmond schools for fifteen-odd years, moving from Mandarin to English as a Second Language, to Social Studies, and finally to English.
Teaching English is fun.  The marking is not fun.  The marking is hell (somewhere between the one where you catch on fire and the one where they gnaw on your skull), but other than that, you get paid to share your love of reading and language with your students, some of whom are actually interested.  I began writing example paragraphs for literary devices, composing poems on the board to demonstrate technique and theme, even stories to be dissected on final exams.  This made me think.  Why not?
So I started writing YA novels, mainly because I was surrounded by YAs.  The most successful, City of Demons, will be published in July 2012.  The others are still being polished (re-tooled, fixed, scrapped – whatever).  I'm also writing short stories: horror, fantasy, even (gasp) literary.  I retired from teaching to concentrate on my writing, since marking ninety essays a week leaves little time and no brain cells for immersing yourself in a new world.
Wish me luck.